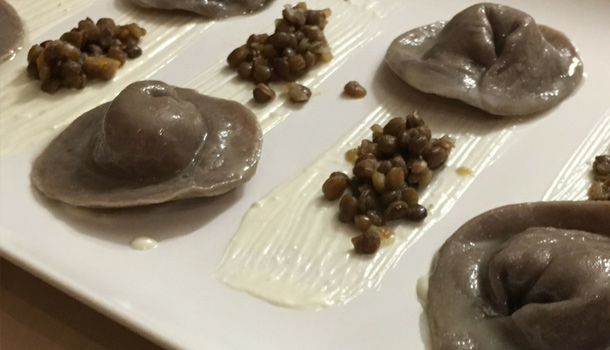 Stuffing
50 g Parmigiano Reggiano DOP
Sauce
160 g sweet Gorgonzola DOP
1Boil the Cotechino. Boil the carrot, onion and celery.
2For the preparation of lentils
Chop the shallot and carrot, fry it, add the lentils and pour the broth as it dries. Cook for about 30 minutes.
3For fresh pasta
Arrange the flour and add the egg, Lambrusco and salt to taste. Work the dough until it is homogeneous and elastic. Let it rest for 20 minutes wrapped in cling film.
4For the preparation of the gorgonzola sauce
Put the cooking cream on the heat, as soon as it simmers add the Gorgonzola and bring everything to a boil. Cook for 5 minutes, stirring with a whisk. Blend the sauce to avoid lumps. When the Cotechino is ready, grind it together with the previously boiled vegetables, adding the grated Parmesan cheese. Roll out the dough until it is thin; cup it with a medium round pastry cutter, insert the filling in the center, close it in a half moon shape, after wetting the sides to make them adhere. Take the two ends and join them downwards. Cook the ravioli in abundant salted boiling water for a few minutes, drain and sauté them in a pan with a little butter.
5Composition of the dish
With a kitchen brush, draw five horizontal lines with the Gorgonzola sauce on the plate, then lay five ravioli in a staggered way and place a spoonful of lentils on the side of each ravioli.