Sale of pork ciccioli: where can you find the best?
The Franceschini Gino & C. company was founded in Spilamberto in 1963, named after its founder Gino Franceschini. The company's philosophy is to produce high quality cold cuts and sausages following the typical recipes of the Modenese tradition.
The salient aspects of Gino's work have thus been handed down to his children and sixty years later, production has remained the same. The aim of the Salumificio Franceschini Gino & C. is to introduce future generations to the ancient flavours, to keep them just like they were in the past and to spread the high quality of Made in Italy all over the world.
The Modenese Salumificio produces more than 15 different types of salami, ciccioli and coppa di testa, cotechini and zamponi, matured pancetta and also a variety of traditional regional sausages.
Sale of pork ciccioli, the best can only be found at Franceschini Gino & C.
The Salumificio Franceschini Gino & C. is famous for selling pork ciccioli, made by combining the fatty and lean parts of the pig, which are produced according to tradition in open cauldrons that Gino has handed down to his children.
Finally, this typical regional product can be enjoyed in different ways according to the degree of pressing; the tender version is good for slicing; while the drier one is ideal for winter aperitifs that bring the flavours of childhood spent with the grandparents back to mind and allow the youngest to try them.
In their Salumificio, Gino's children use only quality raw materials, and the meat comes from pigs born and raised in Italy and processed directly in the Modenese company.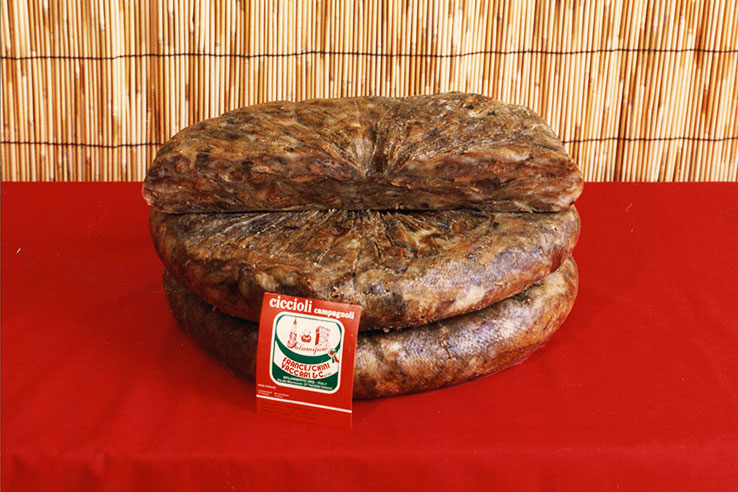 Visit the Franceschini Gino & C. company for the best sale of pork ciccioli
Visit the Salumificio Franceschini Gino & C. website to see first-hand the quality of the cold cuts. At the end of each production process, checks are carried out to verify the absence of ingredients included in the list of allergens, the final result being a gluten-free product that can also be eaten by those who are intolerant to it.
Call the Salumificio or contact them through the addresses in the dedicated section of the website to obtain the best pork ciccioli and use them to create interesting and traditional aperitifs. You can take a look at the special area on the website dedicated to recipes that enable you to enhance the flavours of Modena's regional cold cuts and create high quality dishes that are full of flavour.