Sale of salame all'aglio: Franceschini Gino & Co and its love for Emilia Romagna's salami-making tradition
The renowned company Franceschini Gino & Co was established more than fifty years ago, thanks to the passion of its founder and the desire to carry on and hand down an artisan production, in order to introduce new generations to the authentic and genuine flavours of the past.
The company, which has now become a real point of reference in the Modena area, promotes the artisan production of salami that have made the history of gastronomy in Emilia Romagna.
Over 15 different types of salami cured using traditional methods and produced using only high-quality pork from pigs that are born, bred and slaughtered in Italy.
The entire production process takes place with meticulous attention to the various stages and avoiding possible gluten contamination.
The meat is stuffed into natural casings and no traces of gluten, antibacterials or polyphosphates can be found in any salami in the chain.
The encounter between the passion for quality products and the desire to share the unique flavours of the Emilian charcuterie tradition with others gave life to this business, which continues its production today with the collaboration and participation of two different generations: firstly, its founder, Gino Franceschini, and now his children.
Sale of salame all'aglio: experience and tradition at the service of flavour
Among the typical Emilian products and those produced by the Franceschini Gino company, is salame all'aglio.
A sweet taste, a delicate scent and a typical ruby red colour characterise this garlic salami whose origins are very ancient.
The entire production process is based on carefully analysing the various phases and meticulously choosing the meat and flavourings to be used.
Once the meat, from the finest parts of the pig such as loin, shoulder and ham is minced, it is flavoured and seasoned with salt, black pepper, nutmeg and garlic.
The mixture is then stuffed into natural casings, which are tied and repeatedly pricked to allow air to escape.
The subsequent maturing process is carried out according to the traditional technique and lasts from fifty to seventy-five days, at strictly controlled temperature and humidity.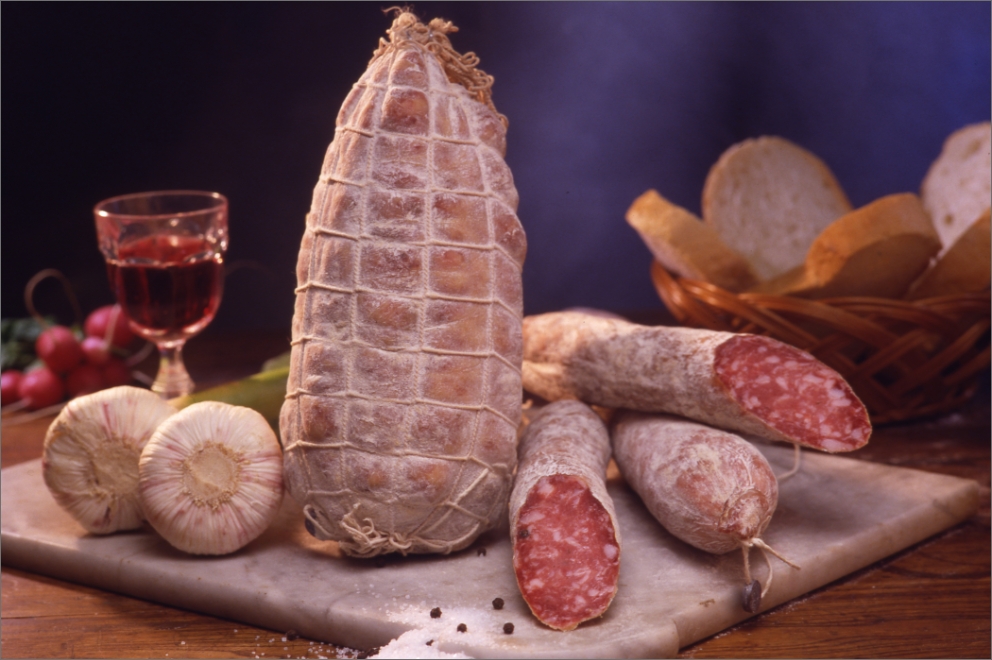 Salame all'aglio: suggestions for serving and enjoying it
The salame all'aglio sold by Franceschini Gino is processed according to the old Emilian recipe giving the impression of a home-made product.
It is excellent alone as a snack to serve during an aperitif or an appetiser and is also very suitable for sandwich fillings.
It goes very well with white or yellow browned polenta or as an ingredient in any kind of recipe.
In short, whatever way you decide to eat it, this exquisite garlic salami, produced by Franceschini Gino & Co, is the perfect companion to warm up your winter and give your dishes a unique and unmistakable taste.