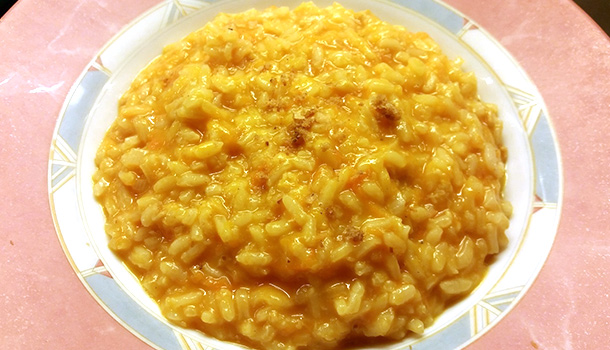 Carnaroli or Roma rice 200 g.

Oil q.s.
1First, prepare at least one and a half liters of broth, possibly meat, but vegetable is also good and take care of the pumpkin: remove the rind, wash it and cut it into small cubes; season it in a drizzle of oil with a little chopped onion and then put it to simmer over low heat with a finger of hot water for about 10-15 minutes, until soft. Salt and pepper, then blend half of it and leave the other half in cubes.
2Prepare the risotto in the most classic way: fry the chopped onion in oil, toast the rice, blend it with white wine and start cooking with the broth.
3When the rice is almost cooked, add the pumpkin puree, the diced pumpkin and the finely chopped cracklings; season with salt and pepper and let it rest for 5 minutes over the heat before stirring in some grated Parmesan.
4Serve with a handful of chopped cracklings as a decoration on the risotto and serve hot. (Recipe taken from "Giallo Zafferano").