Quality and tradition: in just two words, this is the synthesis of the work that the Franceschini Gino company has been carrying out with passion and dedication for over half a century.
Two basic concepts that the patron of the homonymous cold cuts business, based in Spilamberto in the province of Modena, has passed on to his children, who succeed him in running the business, so they can continue to produce only the excellence of the sector.
Franceschini Gino & C.: production and sale of matured pancetta and much more
Founded in 1963 by Mr Gino Franceschini, the company stands out for the high quality of its products and for the faithful bond to the flavours of local tradition, reproduced by using historical processing techniques and excellent raw materials.
Franceschini Gino & C. has been producing over 15 types of salami for over 55 years, including small, large and traditional salami, coppa, prosciutto crudo, raw or precooked zampone and cotechino, and matured pancetta, always using the best pork available on the market.
The carefully selected and processed meats come exclusively from pigs bred in Italy; no additives potentially capable of triggering allergies or ingredients contaminated with gluten, caseinates or polyphosphates are added.
In the Franceschini family's business, the cold cuts, stuffed into natural casings and traditionally tied by hand, are matured according to the methods used in Emilia-Romagna farming, for products with a superb aroma and flavour, to say the least.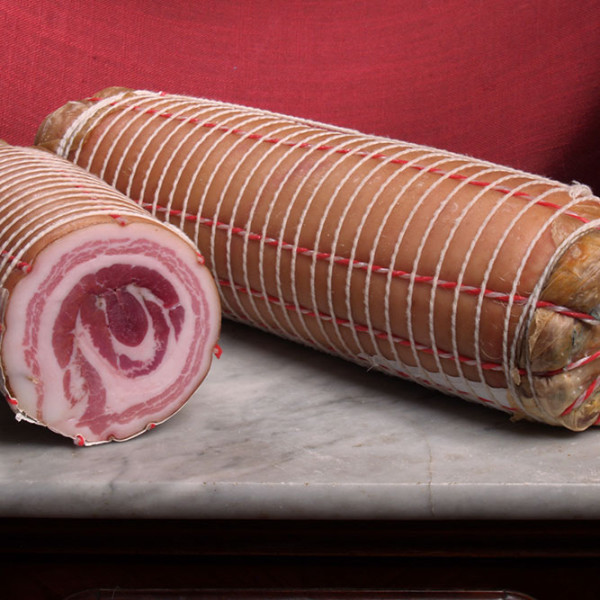 The traditional production and sales company: from matured pancetta to ciccioli
The link with local traditions is evident in the production of tender or dry ciccioli, obtained using the systems handed down from ancestors to new generations, but also the rolled pancetta seals the inseparable relationship of the Salumificio of Spilamberto with the excellent gastronomic tradition of the territory in which it is located, representing in its own right, the highest production.
Matured pancetta, which is rolled to ensure its freshness, acquires its special "melt-in-the-mouth" sensation on the palate thanks to a skilful salting process, which only years of experience can allow perfection to be accomplished.
Salting, in fact, is the most important step in the production of matured pancetta: this process must be carried out strictly by hand, by qualified personnel only.
The salt, which is generally seasoned, must be patiently massaged over the meat, even several times while it is left to rest for no less than fifteen days at a low temperature. After rolling and tying, the pancetta is matured for a period of between two and 14 months. The result of all this care is a tender and fragrant cold cut with an intense and enticing flavour.