Franceschini, the reference for the sale of salame piccante tipo Napoli
Since 1963 the Franceschini company has stood out for the quality of its charcuterie products, made with passion and the utmost dedication. Situated in Spilamberto, in the province of Modena, the company draws all it can from the experience gained by its founder Gino, whose aim, passed on to subsequent generations, is to respect the traditions and typical local products that characterise Italian sausages.
Within the vast range that this production business can boast today are over fifteen types of salami, coppa, matured pancetta, Parma ham, cotechino and zampone, without forgetting ciccioli and coppa di testa. It is highly important to note that production is carried out using only top-quality raw materials, which are derived from meat from animals born, bred and slaughtered only in Italy.
Showing particular attention to the lifestyle and needs of the modern consumer, the Franceschini company, which stands out in the production of traditional Modenese salamis, also sells salame piccante tipo Napoli, as well as other specialities.
Sale of salame piccante tipo Napoli, a cold cut product of excellence
This spicy salami is obtained by mincing selected pork meat, which is coarsely ground and flavoured with hot spices with a slightly smoky hint, as befits Neapolitan cuisine.
Generally stuffed into a natural casing, the salami is dried for a variable period of time and left to mature for a little less than a month or so.
It is a truly excellent product, similar to the Spanish chorizo, which after all shares many flavours and aromas with the gastronomy of Campania.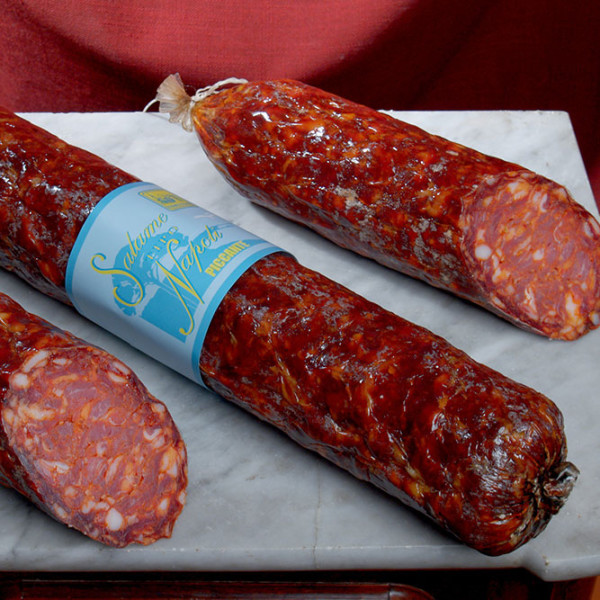 Sale of salame piccante tipo Napoli that is top quality and safe
To give a bit of zip to your dishes, to make typical Neapolitan recipes or even to prepare an excellent platter to serve as an appetiser at a party with friends: there are many reasons to look for an excellent supplier that deals with selling salame piccante tipo Napoli.
When it comes to cold cuts and sausages, there are no compromises: it is absolutely necessary to have access to a premium selection in order to be sure that the products meet the highest quality standards. This and many other reasons are at the basis of the success of Franceschini Gino & C, a company that is increasingly appreciated for the high quality of its products.
Come and visit us in our shop or contact us by phone at the number indicated on our website. We will be happy to give you more information about our production processes, during which we pay particular attention to listing all possible allergens, to offer you products that are not only tasty, but also very safe.