Franceschini Gino & Co and the sale of zampone PGI Modena: a gastronomic delicacy with over five hundred years of history
The Franceschini Gino & Co company, founded over fifty years ago and now run by two different generations, is one of the most renowned in Modena and the province for the production of typical regional cold cuts. In addition to classic matured salamis, Franceschini & Co produces one of Emilia's main gastronomic delicacies: zampone.
The charcuterie tradition of the past finds its utmost expression in the production of the Franceschini Gino company.
The choice of strictly selected meat from pigs born, bred and slaughtered in Italy, a typically artisan production process, the use of refined flavourings and careful controls during all the various production phases make this well-known company a real point of reference when it comes to products made in Italy, synonymous with high quality and genuineness throughout the world.       The passion for their work and the desire to offer others only excellent quality sausages, which fully replicate those made at home, have decreed the success of this company; attention to detail and experience have then made the difference.
Sale of zampone: a gastronomic speciality born from a sad story
Today, zampone is one of the most widely consumed cold cuts among Italian families, especially during the Christmas season where it is one of the undisputed protagonists of dinner on the 31st December and lunch on the 1st January, because in addition to its unquestionable taste it is also a sign of good omen for the new year.
Yet the origins of this appetising cold cut are rather sad and date back to 1511, when Pope Julius II's troops besieged Mirandola, leaving the people of Mirandola in a state of extreme poverty and hunger. It was Pico della Mirandola's cook who had the idea of slaughtering the few remaining pigs and stuffing the meat into a membrane made from the skin of their feet.
The aim was to ensure longer preservation and prevent the meat from rotting so that it could be eaten in the months to come.
This is how zampone and its characteristic shape were born. A gastronomic speciality capable, as the famous French writer and essayist Emile Zola said, of bringing joy even to a sad soul.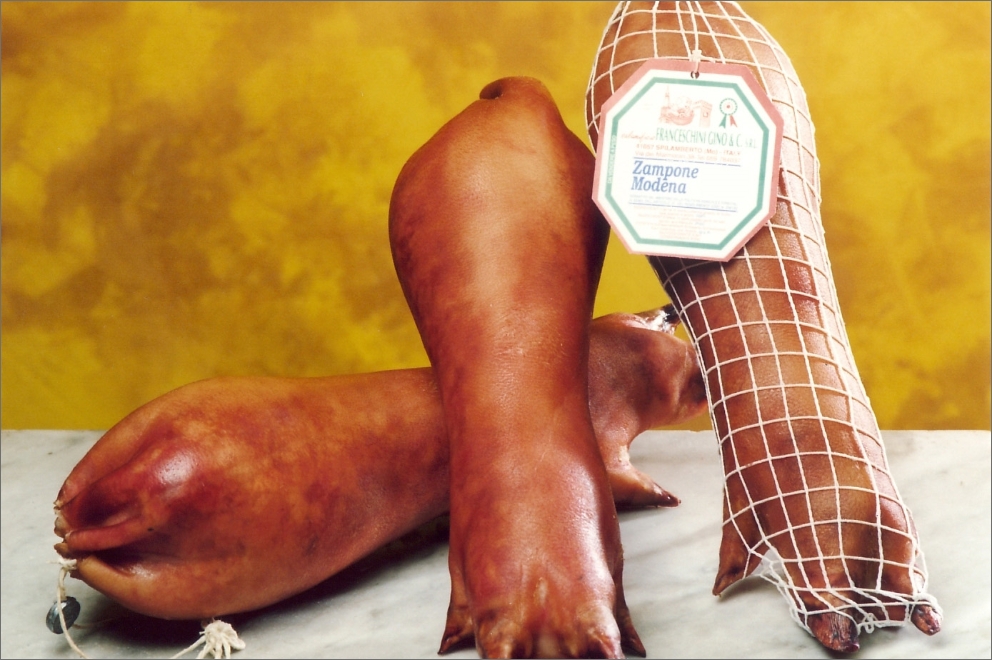 Franceschini Gino & Co: artisan of cold cuts and zampone
Franceschini Gino & Co uses its own company policy, which becomes the stylistic code for all of its products: taste, clean, true, balanced aromas that make you perceive the excellent quality of the raw material without absolutely covering its characteristics and flavour.
No sugars, preservatives, emulsifiers or antioxidants – just a mix of top-quality Italian pork seasoned with salt, spices and natural flavourings. Whether raw or precooked, it has a unique, succulent taste and goes perfectly with lentils, beans or mashed potatoes.