Franceschini, sale of cured Parma ham and much more
In and around the Modena area, Franceschini has been a name synonymous with quality in charcuterie since the mid-1960s.
The sale of cured Parma ham is one of the highlights of Franceschini's business: we pride ourselves on sourcing exclusively from the most reliable suppliers. This is possible thanks to the experience gained by Gino, the founder of our family business, who in many years of work has learnt to recognise only the most excellent hams, as well as the best producers of this extraordinary food product.
In addition to Parma ham, we include in our offer a wide selection of cold cuts typical of the Emilia Romagna tradition and of the Bel Paese. However, it is in choosing the best hams that you can test the quality of our offer by seeing it first-hand.
Sale of cured Parma ham, product of excellence
To be considered a Parma ham, the hind thigh must come from a nine-month-old pig reared in one of the eleven regions established by the European Union and weighing no less than 150 kilograms. The animal must have been fed a special diet, including cereals, wheat and whey, derived from the Parmigiano Reggiano production process.
The thighs are marked with a certificate of authenticity before being sent to one of the traditional companies located in the area around Langhirano, in the province of Parma.
Salt is the only ingredient allowed when curing ham, while the use of chemicals is completely forbidden. Following the first salting, the Parma ham is stored in a chamber with 80% humidity, where it hangs for a week.
The ham is then salted again and hung in a drying room, where it loses a small percentage of its weight. After twenty days, the ham rests in a cold room for another two months before being washed to remove the salt and then hung on wooden frames.
After three months, it is smeared with lard, salt and pepper to prevent it from drying out and, after seven months, tested with a needle to determine its maturity. After twelve months and having lost a third of its weight, it can receive the brand of the ducal crown.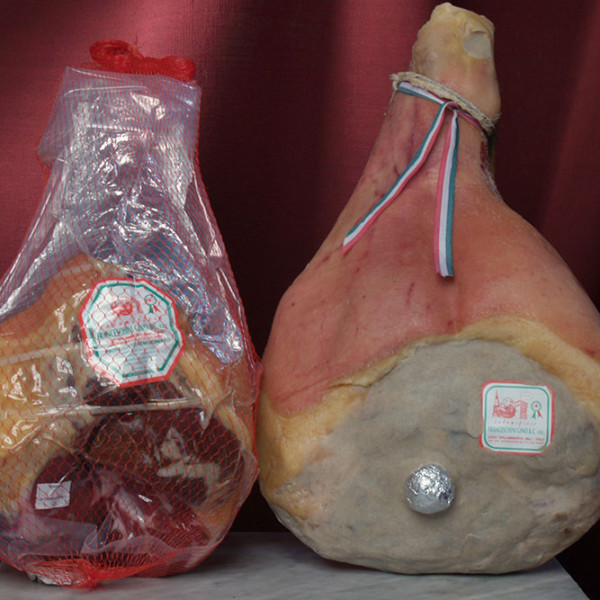 Sale of cured Parma ham: choose Franceschini
Such a process, full of care and attention, presupposes that the most conscious consumer will turn only to the best suppliers that sell cured Parma ham, a true excellence of Italian gastronomy.
We only sell the best selection of Parma ham, and, in addition, we can recommend pairings to enhance this food on your table.